John Evans' Sons is a leader in development of custom spiral torsion springs for your application.
Various materials including carbon steel, stainless steel and specialty alloys are available for development projects.
Spiral torsion springs are used in applications, that require short rotation (less than 360 degrees of rotation). They obtain a large amount of torque through a small amount of rotation.
The torque available per revolution is linear for the first 360 degrees. If the deflection is greater, the coils often "close out" or come into contact with each other, causing the torque to rise rapidly. We offer various details to attach the end of the springs.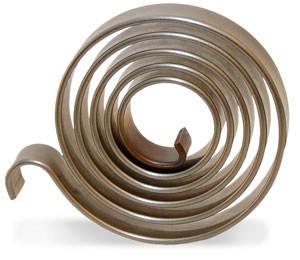 Spiral Torsion Spring Applications:
Medical Devices
Aerospace/Defense
Industrial
Electric Motors
Need Assistance? Consult our Technical Team.
Our Technical Team offer a depth of expertise to assist you with all parts of the process. We are ready to answer your questions in a timely manner and will help you define what you need. We produce custom springs for all purposes, and we are here to work with you on any of your customization needs.